Use your ICT talent to make a change?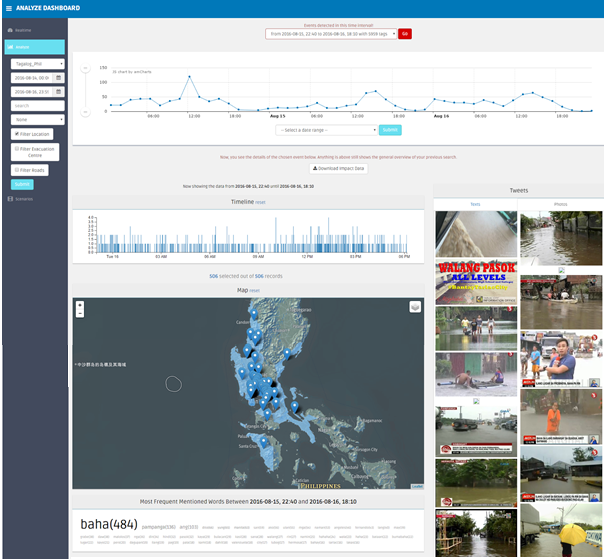 We are looking for an ICT talent that can help us develop our platform and make a change! FloodTags uses state-of-the-art techniques in a platform that helps organisations work with user generated content in their water and development projects. For instance in The Philippines, FloodTags is helping The Red Cross to ingest large number of Twitter content to detect floods earlier so that their first responders can deliver aid better (see also this Impact Story of what we are doing there). In Tanzania we work for the Worldbank to analyse online news media for early flood warning, so that citizen can be better prepared. And in Mali we are starting with a project where we combine social media data with remote sensing for various water and agricultural applications. A both technically and socially dynamic environment!
FloodTags collaborates with a number of academic partners, among them Radboud University Nijmegen, Deltares and Vrije Universiteit Amsterdam. Results and scripts of their PhDs contribute to the platform you are working on, so we need you to think and work in a challemging environment, on academic level. With the projects abroad, there's optional travelling involved. These are short missions to the locations to make inventory of the local ICT, and suggest how FloodTags solution can be connected to the software and procedures of the Client.
You are using state-of-the-art techniques, and you would like your talents to have social impact in the world? At FloodTags this is exactly what we need!
Your Capabilities
– You have minimum two years experience as software developer, and a good knowledge of Javascript and Python.
– Your thinking and communication is on an academic level. You will be working with several universities and smooth communication between them is of paramount importance.
– Creating social impact is important for you. FloodTags is a social enterprise looking to use ICT to make the world a little better. Your motivation can be an inspiration for others.
– You are a flexible and independent worker that can cope with change. Moreover, you yourself are creative and always on the lookout for new ideas and software improvements. FloodTags is a start-up that is finding its way, pivotting where needed to get the best results.
– English proficiency is a must. Dutch proficiency is welcome but not required.
– Willingness to travel is welcome but not required.
What we offer
– A competitive salary
– A challenging work environment
– Much attention for personal development
– Possibility to do short missions abroad
– Possibility to contribute to scientic papers
– Be part of an innovative start-up in The Hague
Interested? Please send your resume and application letter to